Markets & Festivals

1st and 3rd Wednesdays of the month – Gympie own Centre Growers Market – Memorial Park, Gympie
 2nd, 4th & 5th Thursdays of each month – Maryborough Heritage Markets
Relish Fraser Coast – 4 June 2016
Regional Flavours SouthBank Brisbane – 16 & 17 July 2016
Childers Multicultural Festival – 31 July 2016
Bargara Strawberry Fair – 6 August 2016
Hervey Bay Seafood Festival 2015 – 14 August 2016
Tin Can Bay Seafood Festival – 24 September 2016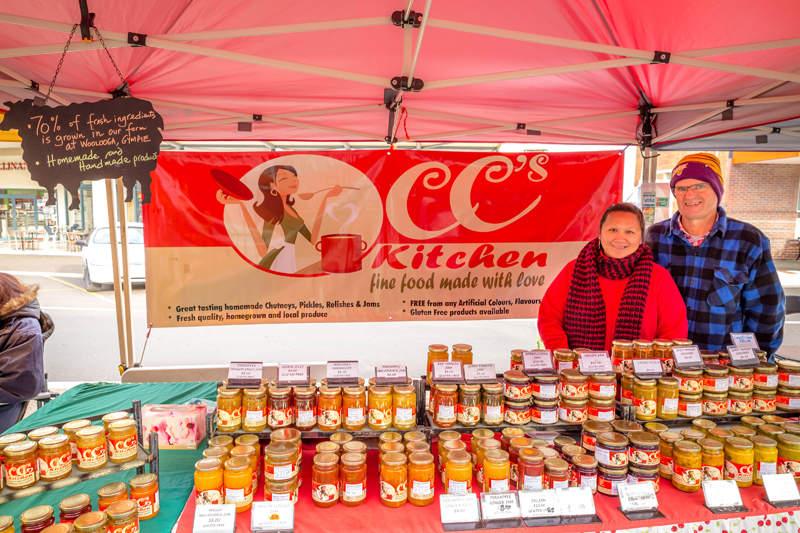 Stockists & Retailers

Petersen's Vege Shop – 2 Reilly Rd Woolooga, Qld
The Rusty Ute Cafe – Woolooga Qld
Seafront Front General Store – Hervey Bay, Qld
Granny's Macadamia Kitchen – Esplanade, Mooloolaba
Granville Butchery – Granville
The Butcher Shop – Tinana
Kilkivan Meats – Kilkivan
Tiaro Meats and Bacon – Tiaro, Qld
Gympie Information Centre – South Gympie
Cooly Fruit Gympie – Centro Shopping Centre
Heilbronn's Friendly Grocer – Duke St, Gympie
Farmer & Sun – Southside Gympie
Rainbow Beach Fruit – Rainbow Beach Rd, Rainbow Beach
Gympie Visitors Centre – Lake Alford Park, Gympie
Dagun Train Station – Dagun, Gympie
Pomona Fruit & Veg, Pomona Qld
No. 1 Fresh Fruit – Bridgewater, Mooloolaba Qld
Belmondos – Bioshop Noosa – Noosaville
Top Spot Fruit Mart – Aspley Hypermarket, Aspley Qld
Rosella Condiments

Rosella flowers – Hibiscus sabdariffa – are grown on Petersen's Farm. CC's Kitchen produces a range of rosella condiments including syrups, jams, pickles as well as selling fresh rosella fruit when in season.
Jams & Condiments

CC'S Kitchen creates an exquisite range of preserves, jams, jellies, pickles, chutneys, syrups and other condiments from fruit and vegetables harvested from they town Petersen's Farm
Petersen's Farm

Petersen's is the home of CC's Kitchen.  Fresh fruit and vegetables are grown on the farm and are available for purchase from the farm gate, markets and select retailers.